1.APPLICATIONS
Used as bare overhead transmission conductor and as primary and secondary distribution conductor and messenger support. ACSR offers optimal strength for line design. Variable steel core stranding enables desired strength to be achieved without sacrificing ampacity.
2.SPECIFICATIONS

ROLLAS 's ACSR bare conductor meets or exceeds the following ASTM specifications:
B230 Aluminum 1350-H19 Wire for Electrical Purposes.
B232 Concentric-Lay-Stranded Aluminum Conductors, Coated-Steel Reinforced (ACSR).
B498 Zinc-Coated (Galvanized) Steel Core Wire for Use in Overhead Electrical Conductors.
B500 Metallic Coated Stranded Steel Core for Use in Overhead Electrical Conductors
3.CONSTRUCTION
Aluminum 1350-H19 wires, concentrically stranded about a steel core. Standard core wire for ACSR is class A galvanized.
Class A core stranding is also available in zinc-5% aluminum-mischmetal alloy coating.
For aluminum-clad (AW) ACSR, please refer to the ACSR/AW catalog sheet
Additional corrosion protection is available through the application of grease to the core or infusion of the complete cable with grease.
ACSR conductor is also available in non-specular.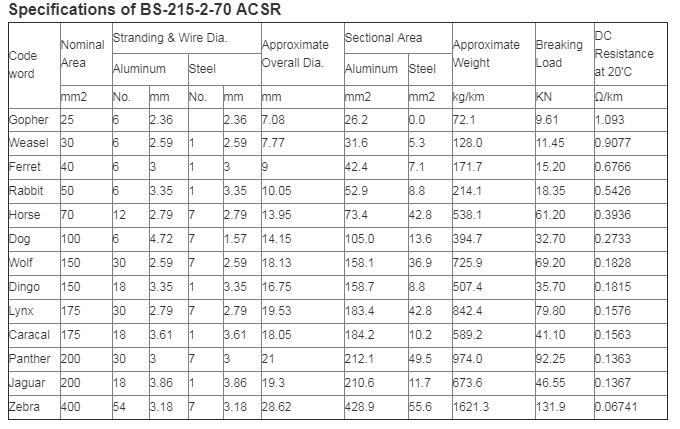 4.Packing and Shipping
ACSR conductor/ACSR/Bare Conductor/Overhead Conductor cable,
Within 2 weeks after confirming the order BV Cable
1) Packing length: 100 to 1,000m reeled in carton drum or according to customers' requirement
2) Outer packing: wooden case, carton box
3) Other packing requirement according to client's request