Ball Ended Hook
1.Product Description
Link fitting are used to link clamps to insulator, or to link insulator and ground wire clamp to tower arms or subjection structure. Link fitting have special type and common type in accordance with mounting conduction.The special type includes the ball-eye and an socket clevis linking with insulator. The common type is usually pin connected type.They have different grades in according to the load and are exchangeable for the same grade.Dimensions of ball and socket for the special type are in accordance with "Dimension of ball and socket coupling of string insulator units" IEC-120 and "Dimension of hanging insulator units for high voltage transminssion line"GB4056-83.
2.Drawings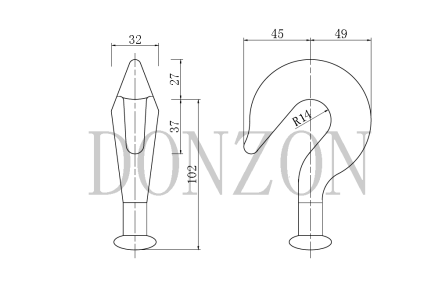 3.Product Specification
Hot Dip Galvanized Ball End Hook
1.professional manufacturer
2.high strength and well durable
3.material:Q235 steel
4.Surface tolerance, zinc finish, painting finish also be tested according to customers' different requirements.
4.Packaging Details
standard ocean packaging or customer'requirement
Delivery Time: within 15 days after confirm the order
Port: tianjin
Lead Time: within 15 days after confirm the order